Relax!
Come and enjoy what I do.  Nothing stressful, away from your worries, sit back and enjoy!
When you view these, it is my hope that  you find what I do as I am painting: that is I re-experience the atmosphere of the place.  I feel the soft breeze on my face, it's as if my feet are in the balmy waters, my ears are lulled by the soft lapping of water against the side of the boat, the gentle whoosh! of the waves as they caress the sand, the birds gently prattling in their peaceful environment.
Since moving from North Queensland, Australia to Vanuatu in 2016, I have found SO MANY wonderful subjects.  It's just so inspiring to be here.  The people themselves are very creative, the lifestyle is very laid-back, and with such a variety of wonderful things to paint my fingers immediately started itching to bring you new images.
We have many of my canvases hanging in our own home and I love how they greet me when I wake up.  It's such a great way to start the day: like a lift from close supportive friends.
I feel rewarded by the thought that others are also experiencing this pleasure from my paintings. I really hope they will do the same for you.
Adeline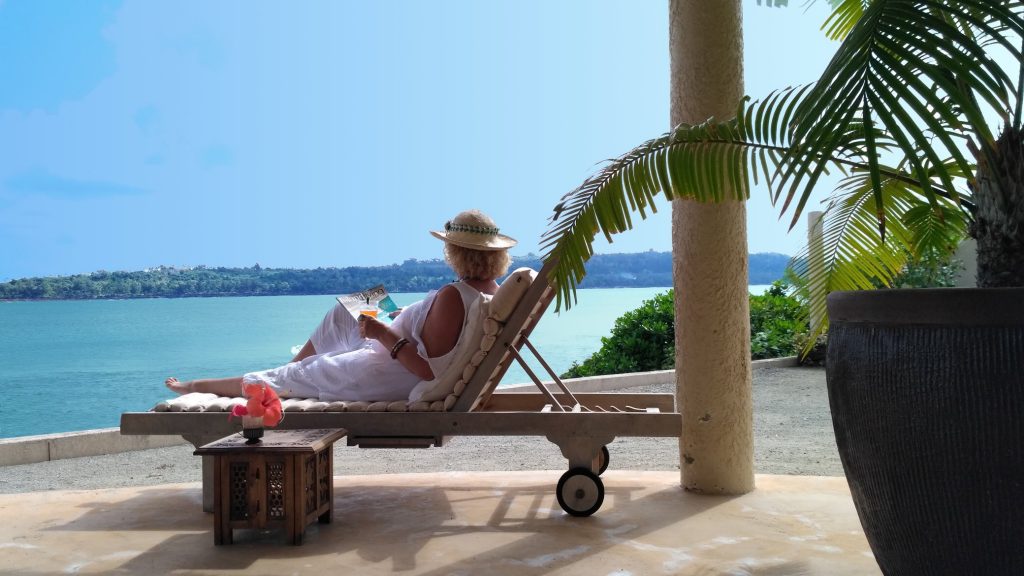 Patio Dreaming outside my studio in Vanuatu
Why?
As a child I was fascinated by watching people paint. I wanted to try it (I love colour!), but I was always too shy in class situations.
So as an adult I started experimenting with paint by myself.
The ocean has always held a great attraction for me so it seemed like a good place to start.
The process brings me real pleasure and that is further enhanced when people are delighted by what I show them through my brush.
Address
P.O. Box 6392
Port Vila
Vanuatu Tel: +678 22411
Office hours only.
Currently it's Sun 14:04